Kalamazoo Michigan Family Photographer | 4 Tips to Ensure Beautiful Family Photos
4 Tips to Ensure a Beautiful Family Photo Session
ELYSE ROWLAND PHOTOGRAPHY
There's been a big shift in my work over the past 8 years. I went from trying to perfectly pose every person (which lead to frustration), to emulating the thousands of images I saw on Pinterest (which lead to disappointment), to finally realizing that I have my own visual 'voice' and that my sessions are better when my clients (and myself!) allow me to use that voice. And let's be honest, there's just no such thing as Pinterest-perfect, & we shouldn't even try -- because that specific photographer was using their visual voice, at a different place, at a different time, and with different people.
So these tips come straight from my heart, from years of experience and stumbling and feeling my way through this photography journey...
1. Choose a photographer because you LOVE the work they're currently posting on their social media & website -- not because they agree to a specific price point, location, or are willing to try something you saw on Pinterest. (Ahem, see top paragraph...) :)
2. Trust them. Trust their vision. You'll be pleasantly surprised when you receive your finally gallery. Know that even if it seems the session is going downhill because your toddler is laying on the ground screaming, or instead of warm sunshine you ended up with clouds and rain, your photographer knows how to handle it.
3. Know that lighting trumps location EVERY time.
I repeat: LIGHTING > LOCATION. End of story.
Lighting matters, and your photographer will use it to their advantage. Bad lighting ruins even the best of locations.
4. Have zero expectations of your children. (Or atleast less expectations…) If instead of going into a session with high hopes for certain poses or backgrounds or smiles or whatever else you saw somewhere on so-and-so's Insta-feed, you simply went with the goal to laugh, chase, play, cuddle & create an adventure together, your session would be better than you could possibly imagine. As photographers, we totally get wanting your kids to behave appropriately, and sure, we don't want them hurting anyone or little ones running out of sight, BUT... it's okay if they don't cooperate the entire time. It's okay if they get squirrely and don't feel like snuggling up to you in that moment. We'll try again later. Your kids are not doing anything new. I'm a mom of 3 wild and free little boys – just take a look back at my Instagram feed or InstaStories and you'll get a feel for the crazy happening around here on a regular basis. So, let them run, let them pick wildflowers and stick them behind your ear with their chubby hands, and soak in that precious love...and then pick them up & twirl them around like no one's watching...
..because, truly, that's where the magic happens. And those are the timeless moments I want to document for you.
This gorgeous family is such a great example of these 4 tips. They love on eachother, embrace the crazy, and are up for anything. Saying YES goes such a long ways with kids. It makes them more willing to say yes in return.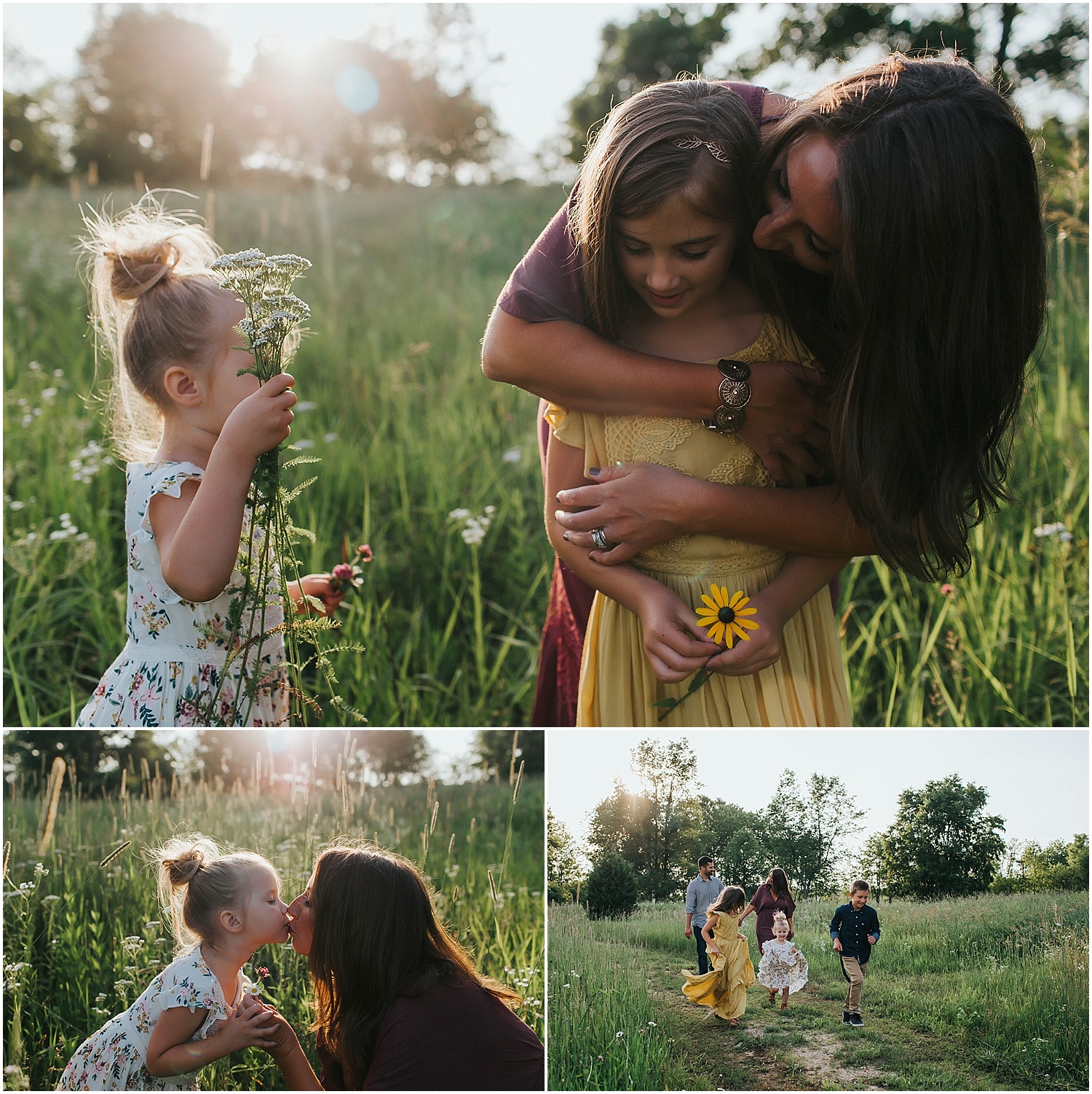 How many times have you wished family photos didn't feel so daunting?
Are you ready for an easier, more laid back approach?
I'm here when you're ready. Just shoot me an email: elyserowlandphoto@gmail.com

xo,
Elyse
Thanks for visiting my blog! I'm Elyse, the face behind Elyse Rowland Photography of Kalamazoo, Michigan.
A few of my favorite things: That warm glow you can only find at sunset. Jesus + all the grace He gives this mama of 3 wild boys. Babies, especially my own, and the way his pudgy hands reach out to me. Dappled morning sunlight and gentle summer breezes. Reading good books. Running with my red lab Waylon, and watching the sun rise over the horizon. Traveling northern Michigan, & photographing the most incredible people & places.
I currently offer both in-home documentary and outdoor lifestyle sessions, and occasionally small weddings, branding & headshot photography. I customize each & every session to my beautiful client's lives, and I'm able to give 110% of myself by only taking a small number of sessions each month.
For investment information, click here.
If you'd like to book a session or want more info, please click here.