The Truth about my Photography. Elyse Rowland, Kalamazoo Michigan Family Photographer.
The truth about my photography... I've been sitting on this thought for the last month – really it's been since January 1 when I decided to partake in a Project 52 challenge with a group of close friends. I've picked up my camera more in the last month & a half than I typically do, and the results have been eye-opening. I'm not just talking technically, but more in the way I personally see my photos.
I had fallen into a low spot with my personal images… comparing my tones, detail shots, subjects, my house decor… basically every.little.thing to other photographers' work… to other's instagram images. Deep down, I know those things don't make photos great, but when you bombard yourself with outside input/images/thoughts/fake perfection, rather than getting alone with your own work, or finding joy in your own reality, it's easy to become distracted and lose sight of who you are.
With this project, I've allowed myself to shoot when I want to, and also to not shoot when I'd rather be in the moment. This is why I chose a Project 52 (shooting atleast once a week) instead of a 365 (shooting everyday). I believe a 365 would lead to huge technical growth, but that's not my goal right now. I want to feel my images. You've probably heard the saying - "Don't shoot what you see, shoot what you feel." It makes me smile when I see the images I've taken. I don't feel pressure (okay, maybe a tiny bit each Sunday when I'm supposed to get the blog post up, but it's a good pressure - because without that I might never post), and I don't feel any sort of angst about getting 'perfect' social media-worthy images. I simply want my life, my loves, my feelings, my mundane days in frames. It's like journaling, but without writing the words.
The truth about my photography is that my images let me share the ugly, messy, weak moments in my journey through motherhood and marriage.
I think back to images I took last winter, after my husband passed out & then fell from a 12 foot tree stand. Even when he was still laying the hospital bed, passed out from the heavy medication, I reached for my iPhone to document moments. The way the light flooded in over him as he lay there, peacefully sleeping between bouts of terrible pain, unable to sit up or walk. It may seem strange to others that I would want to document pain, but it's how I cope.
When we got home, I took photos of him sitting in his chair, playing a card game with the boys. It was my way of documenting the good happening around me when I didn't have words to write or vocalize my feelings. Then there's the photo of him bent over pulling a turkey he raised, and then lovingly cooked for a group of our friends, just a few months after that fall. There was still pain there - aches in his bones, and a fear that had settled in my own bones after watching what he'd gone through and felt the panic of not knowing what life might look like when I first got that call, but he was up. He was moving, cooking, helping me again, taking care of us. I was so proud of him, but didn't know how to say it. Photos allowed me to capture it, and then later I was able to write about that day.
The photos below are from a day last week when I spent most of the day trying to keep our wood boiler going during the Polar Vortex here in Michigan, homeschool had gone downhill that entire week, I was feeling unsure about so many choices we've made for our family, and our house was an absolute disaster. No amount of tidying would have done the trick… it needed a total overhaul.
But these boys found joy… and by documenting their joy in the beautiful light that afternoon, I found joy too.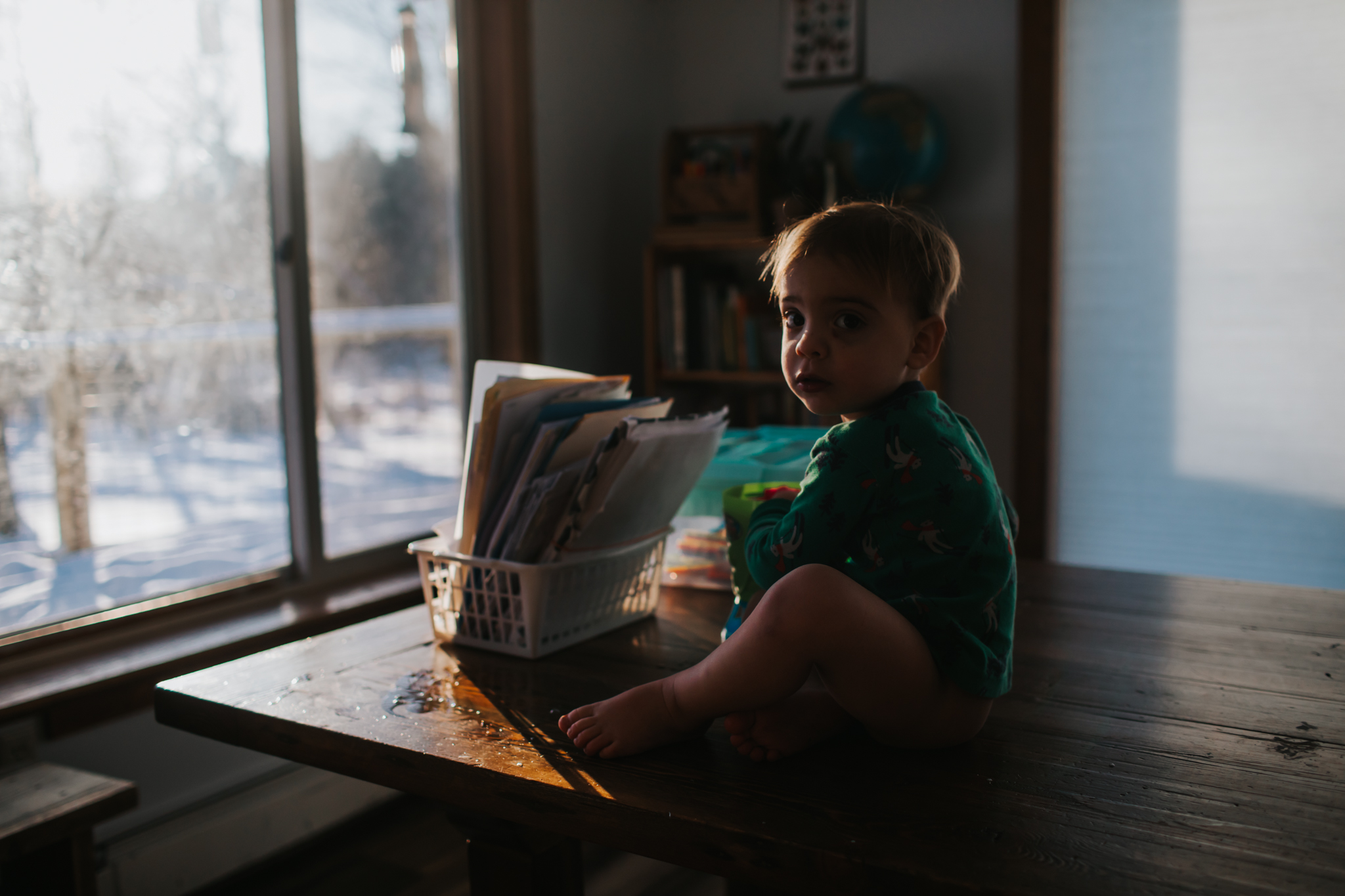 Thanks for visiting my blog! I'm Elyse, the face behind Elyse Rowland Photography of Southwest Michigan, near Kalamazoo.
I currently offer both in-home documentary and outdoor lifestyle sessions. I customize each & every session to my beautiful client's lives, and I'm able to give clients my full attention by only taking a small number of sessions each month.
For pricing & package information, click here.
If you'd like to book a session or want more info, please click here.